Mary Ann Turner Priest
Online References:
Cedar Hill Cemetery
| | | | | |
| --- | --- | --- | --- | --- |
| Child | Born | Married | Spouse | Died |
| Edward E. | ca. 1874 | | Clara | |
| Mary L (Bettie) | ca. 76 | 22 Feb. 1903 | Curtis P. Dempsey | |
| Sallie Belle | 1878 | 12 June 1903 | Asbery R. (Berry) Odom | 1962 |
| Wm. David (Billy) | 1880 | | S. | 1917 |
Mary Ann Turner Priest married William L. Byrd. William L. died in 1880 and his wife Mary Ann died in 1882. After the death of Mary Ann Byrd the Byrd children were taken into the home of Sarah Bailey Priest David. Of the children the only one I knew was Sallie Belle. I have heard my grandmother mention Bettty Dempsey. One of the Byrd boys went to South America and met and married a woman there.
The 1910 Census of Cherokee County, Texas shows:

The Curtis P. Dempsey household. In it we find his wife Mary (Betty) son C. P. age 6, daughter Willie age 4, and son Louis age 2.

The Asbery Odom household. In it we find his wife Sallie, daughter Mary Nell age 3, and his son by first wife Anson Roy (1901-1949) age 8.


Mary Nell
Sallie Belle Byrd

Sallie Belle married Asbery R. (Berry) Odom and had one daughter Mary Nell. Mary Nell married Summers Norman




Mary Nell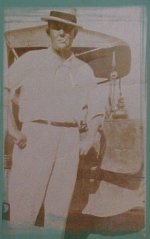 Billie Byrd

Byrd, Louis 9-21-1873 d. 12-29-1939 (Corp. 2 Tex Inf Sp Am War)
Byrd, Billie 1880-1917
Byrd, Mrs. Mary Ann 1848-1882
Byrd, William Louis 1843-1880
Buried Cedar Hill Cemetery

Odom, A.R. (Berry)1872-1940 &
Odom, Sally Bell 1879-1962
Buried Cedar Hill Cemetery
Links to Mijamin and his children:
Mijamin | Mary Ann Hicks | Margaret Jane | Susan Elizabeth | Henry Meredith | Elisha Madding | William Hicks | Mijamin Dale | Mary Ann | Harriet Lou-Ellen | Sarah Bailey | Arthur Franklin | Eugene Albert | Home | Opening Page

Links to Grandchildren: Lela Willson Barrett | Addie Pearl David | Anna Laura (Bon) David | Bertie Love David | Eugene Stanhope David | Mary Lou David | William Mija David | Rupert Clyde Priest