Mijamin Priest and His Descendants
A Pictorial History
This site is dedicated to the memory of Mijamin Priest and Mary Ann Hicks It is designed as a means for various family members to share pictures and information. Those with pictures and information to share please contact Shannon Smyrl. Be aware that pages do not load fast since they are image oriented.
The collage on the home page consists of images of Mijamin Priest, Mary Ann Hicks Priest, Larissa College and the M. Priest home in Rusk Texas. The home is still occupied.
A comprehensive history of Mijamin Priest and His Family can be obtained from the family of
Ruth Priest Dixon
10450 Lottsford Road #2217
Mitchellville, MD 20721
Ruth departed her earthly body August, 2004
Information from The Mijamin Priest Family Bible can be found online
http://www.rootsweb.com/~txtyler/bible/priestbl.htm
The 1850 Census of Tyler County, Texas:
http://www.rootsweb.com/~txtyler/census/1850/tyr50_28.htm#251
To Mijamin and Mary Ann were born the following children:
Child
Born
Married
Spouse
Died
Margaret Jane
Jan. 30, 1834
Jan. 1, 1855
William H. Willson
Oct. 13, 1861
Susan Elizabeth
Jan. 7, 1836
Sept. 1, 1853
Samuel A. Willson
Henry Meredith
April 13, 1838
Aug . 17, 1862 POW
Elisha Madding
Nov. 16, 1840
Dec. 15, 1875
July 12, 1888
Bettie McCord
Ellen E. Clark
William Hicks
Dec. 27, 1842
June 30, 1862 POW
Mijamin Dale
May 30, 1845
22 Jan. 1873
Catherine Woodill
Mary Ann
Sept. 20, 1848
Oct. 17, 1872
William L. Byrd
May 8, 1882
Harriet Lou-Ellen
April 26, 1851
7 July 1871
Thomas Sheriff
Sarah Baily
26 July 1852
Feb. 22, 1870
30 Sept., 1900
William L. David
James H. David
21 Nov. 1940
Arthur Franklin
Nov. 8, 1853
Feb. 22, 1856
Eugene Albert
Dec. 31, 1856
June 13, 1883
Ellen Jones
Of the 11 children of Mijamin and Mary Ann Priest we know of only five are known to have lived past the age of 35. A picture of four of the five is below. Harriet Lou-Ellen is the mystery child. She married Thomas Sheriff and moved from Cherokee County. Anyone having information on Harriet please contact Shannon Smyrl.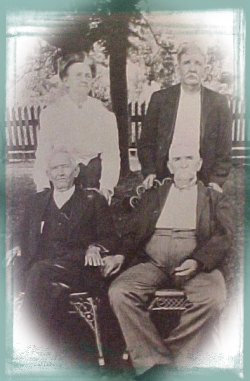 Sarah Baily Priest David Eugene Albert Priest
Elisha Madding Priest Mijamin Dale Priest

The following two pictures are believed to be pictures of some of the Priest children. They were kept in a metal cigar box in Sara Bailey Priest David's trunk along with tin type of Mary Ann Priest. At the moment I have no pictures identified to be Margaret Jane, Harriet Lou-Ellen, or Mary Ann Turner Priest
| | |
| --- | --- |
| Susan Elizabeth Priest on left. | I have wondered if this is Harriet Lou-Ellen who married Thomas Sheriff who was with the Texas State Troopers? Could that be a badge on man's coat or is it only a default in the tintype? . It could also be Margaret Jane and William H. Willson.. |
Family traditon is that Mijamin had to sentence a man to prison thus making this man's daughter a ward of the court. Mijamin took the duaghter into his home. The 1880 Census of Cherokee County, Texas shows Emma in the M. Priest household.

The following entry is found in the M. Priest Bible. Emma Wood - Pearl - Born July 6, 1868 Taken from the Family Record.

Emma married Jim Peel. 19 Nov. 1885, Cherokee Countyt, Texas. Emma and her family were lifetime friends of the descenants of M. Priest.

Pictured: Jim Peel and his son Clyde.
Links to Mijamin and his children:
Mijamin | Mary Ann Hicks | Margaret Jane | Susan Elizabeth | Henry Meredith | Elisha Madding | William Hicks | Mijamin Dale | Mary Ann | Harriet Lou-Ellen | Sarah Bailey | Arthur Franklin | Eugene Albert | Home | Opening Page

Links to Grandchildren: Lela Willson Barrett | Addie Pearl David | Anna Laura (Bon) David | Bertie Love David | Eugene Stanhope David | Mary Lou David | William Mija David | Rupert Clyde Priest